Scuba diving is practiced by tens of thousands of people worldwide every day and is considered a significantly lower-risk activity than many other outdoor sports and recreation. Even such widespread activities as swimming, jogging, and quad biking have higher rates of fatal accidents than diving.
What is the probability of getting ill or injured while diving?
The most common medical problems associated with scuba diving are sunburn, seasickness, and dehydration (all easily preventable). In reality, there are very few diving-related injuries that require any medical attention. On average, there are only 1,092 diver casualties annually in the U.S. emergency.
Compared to other popular sports and outdoor activities, the statistics for medical attention in the United States are as follows:
Diving – 1092 per year
Snowboarding – 4438 per year
Bowling – 19802 per year
Volleyball – 57303 per year
Fishing – 170216 per year
Source: agency NCBI
Well, and what about sharks?
Dogs, snakes, crocodiles, and even hippos kill many more people yearly than sharks. In Australia alone, for example, there are approximately 20 horse-related fatalities annually – compared to only an average of 1.7 shark deaths per year since 1980: maybe it's time to start Horse Protection Week? Most divers like sharks, and they try to remove unfair accusations from these animals.
What if I run out of air?
Your diving equipment includes a gauge that shows you how much air you have in your tank, just like the fuel gauge in your car. You will learn to check this sensor regularly, so it is very unlikely that you will run out of air during a dive. If you run out of air, your buddy has an additional air source (spare regulator) explicitly designed to share air with another diver. At the same time, you ascend to the surface together. Some divers also prefer to dive with a small backup air source.
Anyway, do people die while diving?
Unfortunately yes. As with any activity in the natural environment, there are inherent risks in diving that cannot be completely eliminated. However, with proper training and adherence to safe diving practices, the likelihood of a fatal accident is extremely low—in the United States, there were only 65 diving-related deaths of US citizens in 2019 (this is the latest year for which statistics are currently available). According to a survey by the Diver Alert Network (DAN) Foundation, the diver population is estimated at 3 million and the death rate is about 2 per 100,000, with "the rate looking relatively stable even over time".
Compared to other common sports and recreational activities, the diving fatality rate is as follows: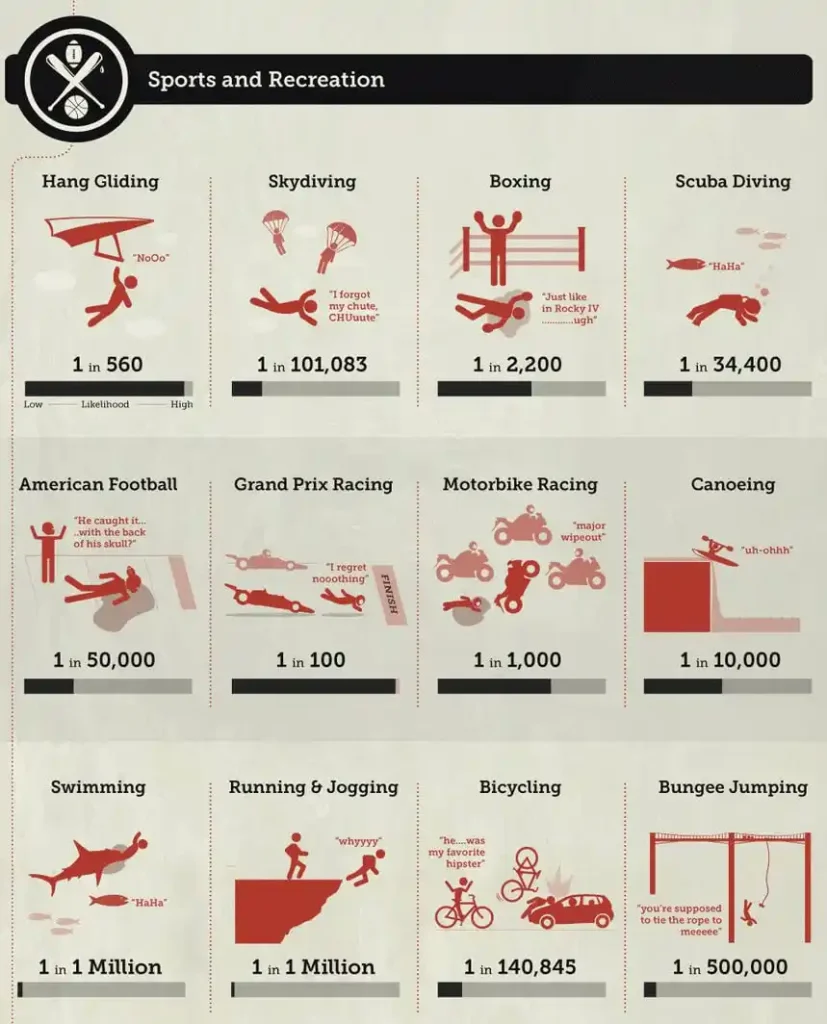 Looking more closely at the statistics of diver deaths, we find that about 45 percent of diving deaths are health-related, with about 25 percent caused by heart disease, mainly in the elderly. One of DAN's annual reports states: "Older, overweight divers with heart or blood pressure problems are at increased risk of diving deaths compared to younger, healthier divers. Fifty-three percent of the affected men and 54 percent of the women were over 50 years of age."
You can find on our website the latest DAN Annual Report 2020, based on 2018 data.
Are there any other ways to mitigate the risks for yourself?
Of course, diving accidents are rarely the result of a single problem. Problems most often arise from a combination of several circumstances:
Poorly or incompletely resolved problems generally escalate;
Escalating difficulty creates stress;
Stress makes problems worse and straining resources.
How do accidents occur?
Exceeding level of training and ability
Exceeding the range of the breathing gas
Lack of standardization/team orientation
Lack of situational awareness and planning
Weak foundation of basic skills
Improper or insufficient equipment:

Overweighting/insufficient lift
Inappropriate breathing gas
Poorly maintained equipment
Problems encountered by a well-focused team rarely result in accidents.
Accident Dynamics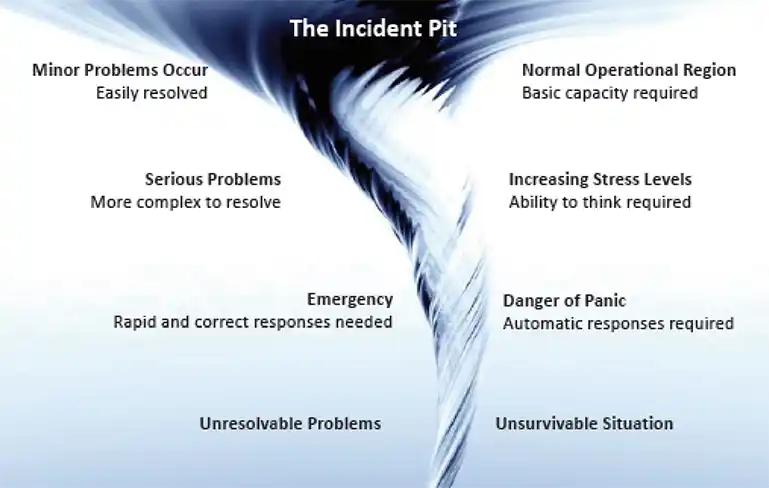 Accident Prevention
Sound diving practices are the most crucial element in accident prevention:
Dive planning
Personal fitness
Risk assessment
A solid foundation of basic skills
Teamwork and support
Diving within personal limitation
Standartization
Situational awareness
Stress management
Stress is a reaction to any emergency and may result in:
An inability to think clearly and rationally
Increased breathing/heart rate
Perceptual narrowing
Divers must recognize personal and team stress. Stress management is a cornerstone to safe diving.
Stress must be controlled to prevent panic
Panic is essentially uncontrollable
Factors leading to stress may include:
Peer pressure
Seasickness or injuries
Poorly fitted equipment
Fatigue
Poor fitness
Poisoning by CO2 caused by increased shallow breathing
Managing Problems Underwater
The Thinking Diver
A solid foundation of basic skills is crucial for maintaining a high level of situational awareness
Such capacity is key to anticipating problems
Further to this, solution thinking is essential for preventing problems from escalating into accidents
Solution thinking
What has happened and with what result?
What resources are intact within the team?
What is the most efficient way to safely return to the surface/shore?
Insulating from Risk
Diving should be fun with challenges that are selected responsibly
Lack of standardization or teamwork, as well as careless planning, introduces unnecessary risks
Situational awareness and a solid foundation of basic skills are key in preventing accidents
The holistic training system insulates divers from risk while maximizing efficiency, safety, and fun.
And what, is scuba diving utterly safe in the end?
No, nevertheless, diving is considered a potentially hazardous activity and if you do not already have insurance covering the risks of diving, we recommend that you take out appropriate insurance for the duration of participation in diving courses, diving in caves, caverns, ocean and other diving activities.
The most professional diving insurance agency on the market today is DAN.
Cave Ha Diving Mexico is a DAN Europe partner. At your request, we can provide you with appropriate insurance for the duration of the courses and trips, as well as for the year.
You can learn the complete list of options at the following link.
Back