Turning toward La Concha Cenote into the jungle on the 54th kilometer from Playa del Carmen of the Cancun-Tulum federal road, you will find yourself on a country road. The dusty bumpy road leads deep into the jungle. It connects the entrances to a pleiad of beautiful cenotes: Caracol, Chun Ya, Otoch Ha, Outland, La Concha, Fenomeno, etc. All these cenotes are part of a single huge underwater cave system Sac Actun – Dos Ojos – Nohoch Nah Chich.
According to the Quintana Roo Speleological Survey and the Bob Gluten website, the cave system Sac Actun – Dos Ojos – Nohoch Nah Chich is the largest underwater cave system in the world. Its explored dimensions are 376 km, and the maximum depth is 119 meters. The cave system connects at least 228 explored cenotes underwater.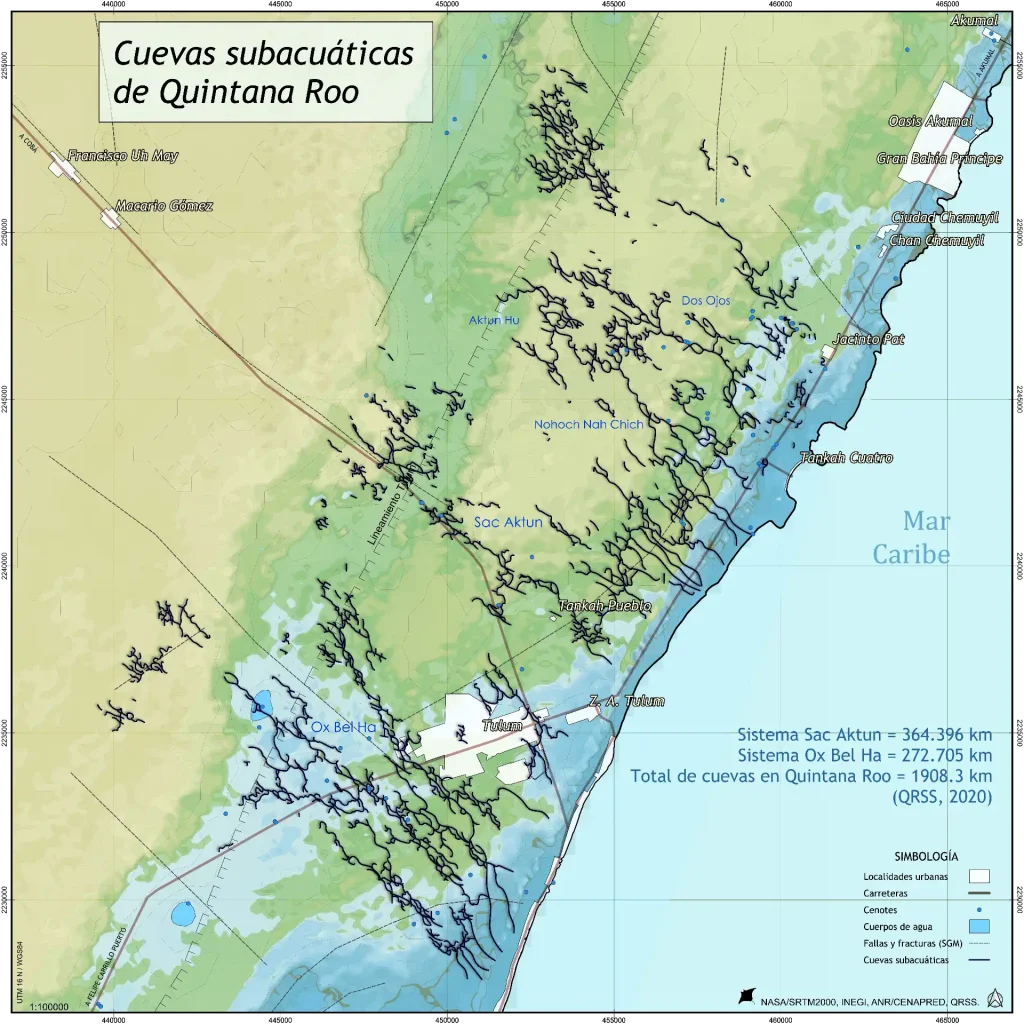 By the way, the next world's longest cave system, Ox Bel Ha, is located very close – just a few kilometers to the south. So, perhaps shortly, a place will be discovered where these two cave systems connect. The combined cave system will not only be only the largest underwater cave system in the world but the largest cave system in general, including dry caves.
Cenote dives located in this area are available to certified cave divers on their own or guided by a qualified cave instructor.
La Concha cenote
Farther away in the forest, an 8km potholed dirt road leads to the La Concha Cenote. La Concha is a half-collapsed sinkhole with a huge Alamo tree extending its roots like the tentacles of a crawling octopus. The atmosphere of the jungle was overwhelming. Entry to the water was very shallow, over white sand. Outside the cave were tall leafy trees, and beautiful "motmot" birds flew by.
Sneaking through a narrow gateway in the limestone, we immediately plummet down to a depth of 10m for the rest of the dive. Visibility is always gin-clear. At the first T-junction of the guideline, we can turn both left and right. Soon after you meander through various chambers of the La Concha Cenote with columns, stalagmites, stalactites, and helictites hanging from the roof like darts.
Following the narrow jungle trail back to the car, you can be noticed with awe a tiny snake coiled neatly on top of a white rock. The cuatro narices, or ultimate pit viper (Bothrops asper), is one of the most poisonous snakes of Yucatán. Also known as fer-de-lance, it can spit venom at a distance of two meters.
Back