Cenote Koi is a part of the cave system K'oox Baal (including Tux Kapaxa caves). The joining of the K'oox Baal and Tux Kapaxa caves created the fourth-longest underwater cave system in the world. K'oox Baal system total length of 74 km. It is the world's biggest cave system, with its spaces mapped! The making of this connection is the symbolic high point of many years of endeavor. Explorers made hundreds of dives in the caves of this region and spent thousands of hours in the waters. They spent hundreds more hours researching and hacking ways through unknown, dangerous jungles, transporting and maintaining our equipment, driving cars, and overseeing endless repairs to them.
Between 2006 and the end of 2011, over 30 km of new space was discovered in the K'oox Baal cave system, thus extending its length to 120,541 ft (36,741 m). On December 9, 2011, the two cave systems merged and were given the name K'oox Baal. With an impressive total length of 246,522 ft (75,140 m), it now proudly stands as the fourth longest underwater cave system in the world. At the same time, it is the longest cave in the world whose entirety, including contours and fills, is mapped.
Cenote Koi and cenote Nai Tucha (originally Tux Kapaxa, the Playground Cave)
The maximum depth is 48 ft (14.6 m).
There are several openings to the surface, with one named Cenote Koi. The main permanent guideline begins in the open water. Follow the main line, swimming for twenty minutes. Jump to your left, follow this 150 ft/ (45.7 m) shortcut, and jump back onto a main guideline. This section of the cave system has massive passageways and is highly decorated. Turn left and swim twelve minutes to an INAH-documented bone site.
Another great dive is to stay on the main line until you reach a permanent T intersection. Turn left and swim twenty minutes to the bone site. Swim straight; eight minutes later, you will reach an air dome with two shafts to the surface. From there, continue. You can swim straight to Cenote Koi or, at the far edge of the air dome on the permanent guideline, jump to your right 45 ft (13.7 m) for the more fabulous cave.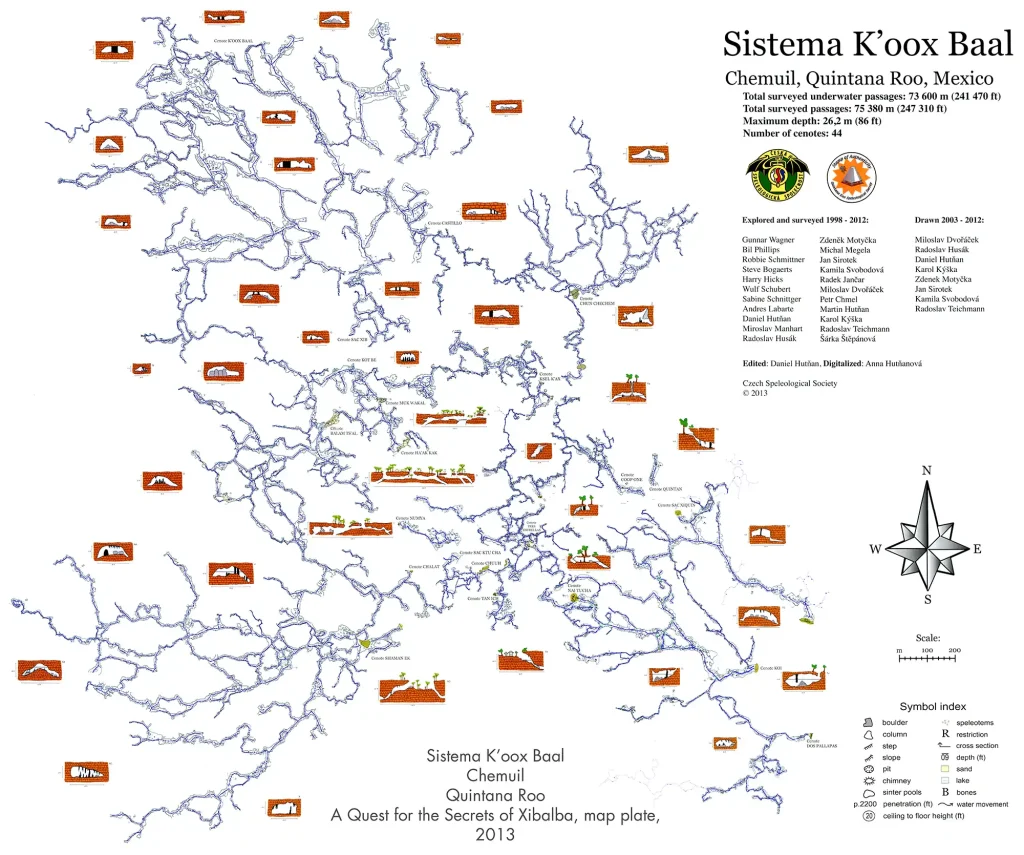 Back