Dive into the mysterious world of the ancient Mayan jungle with a brand-new adventure game: "Treasure of the Mayan Abyss: The Underwater Quest". This exhilarating underwater quest game is exclusively designed for certified scuba divers. Embark on a thrilling adventure to uncover the secrets hidden in the depths of a remote cenote concealed amidst the lush foliage of the Mayan rainforest.
Game Synopsis
Congratulations! As a certified scuba diver, you have been personally selected to join an exclusive team of underwater archaeologists and treasure hunters on an extraordinary expedition for the Underwater Quest. Your objective is to explore the mysterious hidden sinkhole cenote and retrieve the locations of the long-lost treasure chests that hold immense historical and cultural value.
Game Features
Immersive Mayan Jungle Setting
Embark on your adventure by first solving a diving-related puzzle game. This will provide a clue for navigating the dense Mayan jungles and encountering exotic wildlife to find the hidden sinkhole map.
Authentic Scuba Diving Experience
Discover the mesmerizing underwater world of the sinkhole, where transparent waters unveil a magnificent landscape of underwater cenote whose depths are shrouded in a thousand-year-old mystery cloud, and walls are adorned with a peculiar submerged forest. Let yourself be captivated by this breathtaking scenery and immerse yourself in its enchanting beauty.
Maximum depth 30 meters.
AOWD certification is required.
A Nitrox certificate will give you a significant advantage in the time it takes to find all the hidden treasures.
Maximum bottom time: 30 minutes on Nitrox and 15 minutes on air.
Challenging Puzzles and Obstacles
Navigate a challenging underwater path, overcome obstacles, and discover treasure chest locations during underwater quest.
Treasure Hunting
Your main objective is to find the legendary "Heart of Xibalba treasure boxes," which are believed to contain priceless artifacts with mystical powers. However, the treasure is heavily guarded, so you must outsmart traps and avoid the guardians rumored to protect it.
Team Collaboration
Team up with other divers, communicate with the team, and work together to solve the mysterious path and face challenges, fostering a strong camaraderie.
Realistic Gameplay
Experience the thrill of underwater exploration with realistic scuba diving mechanics, including buoyancy control, air management, and underwater propulsion techniques.
Stunning Visuals
"Treasure of the Mayan Abyss: The Underwater Quest" boasts breathtaking visuals that bring the Mayan jungles and the underwater cenote to life, ensuring an unforgettable gaming experience.
Are you ready to embark on an adventure of a lifetime? Dive into the "Treasure of the Mayan Abyss: The Underwater Quest" and uncover the mysteries of the ancient Mayan civilization hidden beneath the jungle's surface. This game offers a unique combination of adventure and underwater exploration, which will captivate both scuba divers and treasure hunters.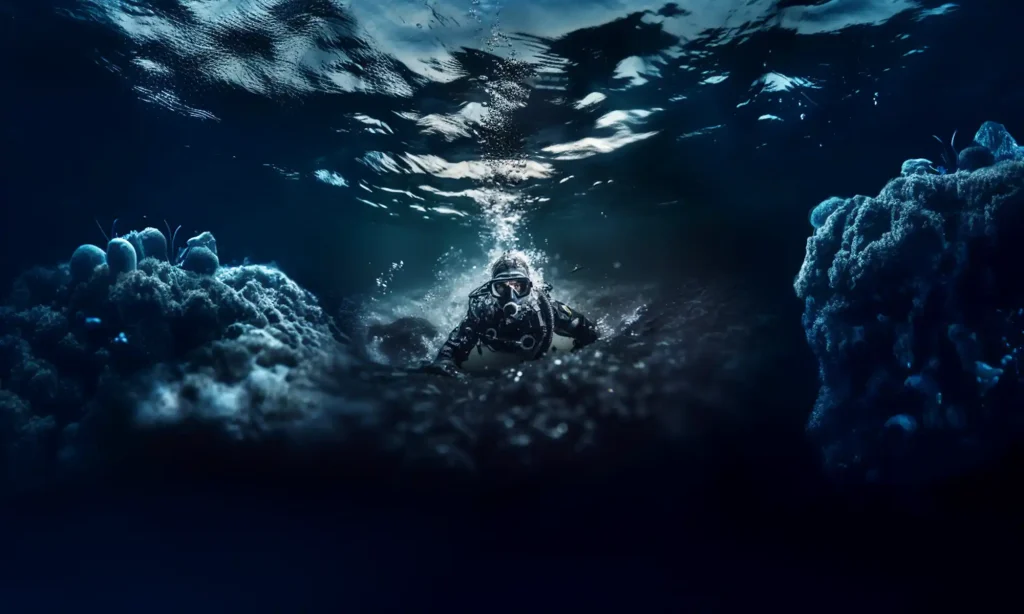 Do you have what it takes to unearth the "Treasure of the Mayan Abyss: The Underwater Quest"?
The experience begins with Playa del Carmen hotel pickup between 8:00-8:30 in the morning. Expected time to come back is 14:00-16:00.
Hotel pickup and drop-off from Playa del Carmen, Cenote entrance fee, Cave guide/instructor, 2 Tanks al80 with Air, weights and belt, Bottled water, and fruits are included.
Not included: Nitrox 32% fills ( 5 USD / tank ), Foto/Video service, Diving insurance, Camera fee (depend on Cenote policy), Equipment rental ( Recreational Scuba set - 25 USD / Torchlight - 5 USD / Decompression comp - 10 USD ), Tips for guide/instructor
Check the dates and prices on our Cavern diving page
Order your Underwater Quest now
Back