CAVE HA DIVING CENTER MEXICO is located in the heart of the Yucatan Peninsula, in the Playa del Carmen resort town, 55 km from Cancun International Airport and Puerto Aventuras City.
Regardless of your level of training, our diving center offer you cavern, cave and ocean recreational and technical guided tours with complete set of recreational and technical training programs that expand your experience.
Turnkey dive trips
We specialize in arranging complete diving trips, including:
Over the years, we have gained extensive experience working with tourist groups. Would you be interested in knowing more about your flight, crossing the border in Mexico, accommodation, and other local information? We'll gladly share our deep local knowledge with you in that case. We will provide you with everything you need to feel comfortable and safe during your holiday at our friendly and welcoming resort in the heart of the Caribbean.
Book a turnkey group dive tour to Mexico now
We offer volume and cumulative discounts for travel agencies, dive centers, and large individual groups of travelers.
We offer maintenance, repair, or adjustment of your equipment that you may need. The availability of spare kits for maintaining regulators, hoses, clamps, bungees, and various spare parts is almost at hand.
Different payment options are available for your activities: 
Cash in USD or MXN, Bank transfer in MXN in the Mexico, Bank transfer in the USA by Zelle, Worldwide wired transfer to the US account, Cryptocurrency transfer in BTC, and RUR transfer by SBP.
Our diving center offer a variety of tanks options to meet the almost all divers requirements: al80 single tanks; al80 stage tanks; aluminum and steel sidemount tanks; s80 aluminum doubles; al40 (5,5L) deco oxygen bottles; Lp50 (7,5L) steel bottles; fx23 (3L) oxygen bottles. We provide Nitrox 32% as standard mix for our diving activities.
Air-filling options are also available if you would like, but avoiding using air in open-circle systems in the overhead environment is strongly advised.
Our dive center offers pure Oxygen, Nitrox 50%, and any Trimix that may be required for your dives.
We fully support rebreather divers, with different tank options for CCR and CO2 absorbent (Sofnolime 797). We constantly check Gas purity and accuracy with our O2, He, and gas purity analyzers.
Scuba equipment for divers who prefer recreational, technical double, and sidemount configuration is almost available for rent for those who want to avoid dealing with overweight airline payments, delays, or loss of expensive luggage. Also, it is an excellent option for those who have yet to decide to purchase their equipment.
Set of excellent brand new SUEX XK DPVs (scooters) also available for rent.
---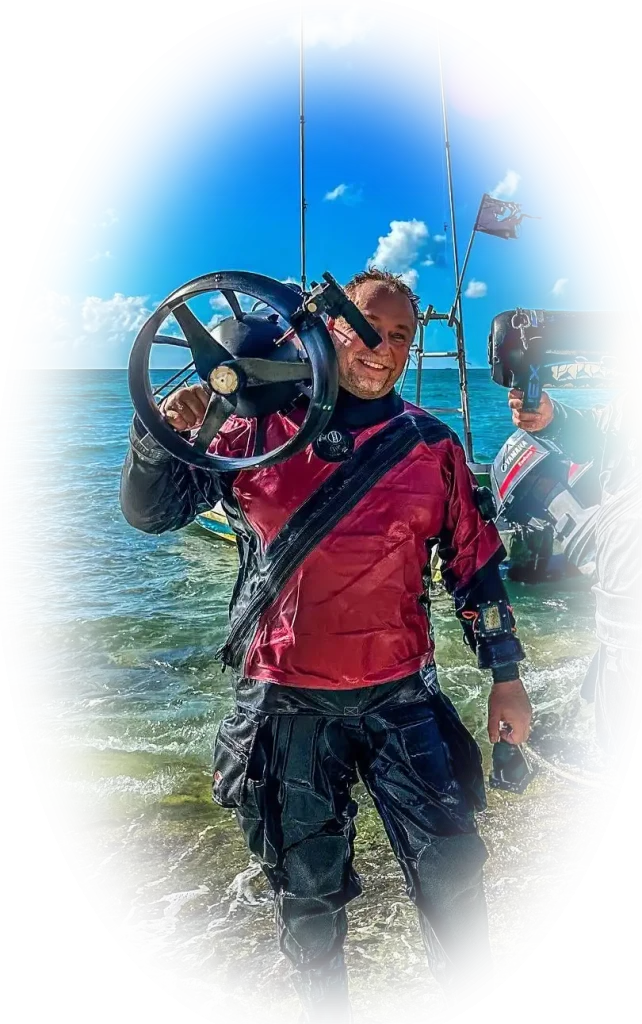 Alex is true cave diving enthusiast, Cave Ha Diving Mexico founder and owner, IANTD/TDI/SDI Technical Cave and DPV Instructor, GUE Member, TDI ER/Trimix, mCCR Fathom, RYA Skipper
Before fully dedicating himself to the diving industry, Alexander served many years as Executive Vice-President for Technology, Broadcasting and Press Operations, Medical and Anti-Doping, Accreditation of the Olympic and Paralympic Games Organizing Committee; President of iTeco International Ltd, Chairman of Board iTeco LLC; Chairman of Expert Board of Bigitex consulting company (finance and IT technology); First Deputy of the Chairman of the Board of Banking Organisation "Inkakhran" and College Professor (Broadcasting and Information Technology).
Chevalier of the orders: Silver Olympic Order and "For Merit to the Fatherland"
---